Books For The Tough Stuff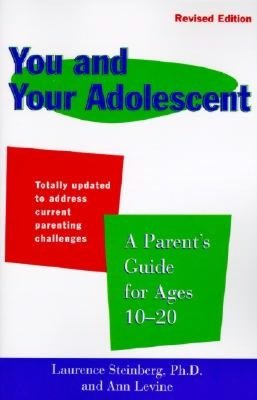 You & Your Adolescent: A Parents Guide For Ages 10-20
Call Number: 305.235 STE
ISBN: 9780060162412
Publication Date: 1990
This book is to help your average parent coping with teenage issues. It is a book that defines teenage terms for parents and teaches you as a parent on how to deal and communicate with daily and harsh issues.
Growing Up Too Fast
Call Number: 305.234 RIM
ISBN: 9781579547097
Publication Date: 2005
How to Talk to Teens About Really Important Things
Call Number: 305.235 SCH
ISBN: 9780787943585
Publication Date: 1999
This book covers almost any topic possbile for tough stuff to discuss with your child. I believe it is a great resource just because all of its content and what it covers.

Communicating with teens has always been a problem, but it's something we must do in order to be apart of their lives and in order to help them when they need it. The first thing you need to do is learn how to talk to your teen child, that is if you forgot what it feels to sit down and have an honest conversation with your children. After that everything becomes easier to deal with, but the talking part can be sometimes incredibly difficult. That is if you let it get that way from the start, by connecting to your child from the early age you will have a chance to avoid that bridge when the teenager years come and the inevitable rebellion begins.

There are many different teen behavior patterns, some can be frightening, some can be alarming and some can be depressing, but with love and patience any parent can overcome them. Maybe I was wrong in saying that you first need to learn how to talk to your teen child, the first thing you need to do is listen to your child. That involves more than just taking some time to listen to what he or she has to say, you as a parent need to try and understand them and you also need to be aware of their social life, of their desires and their dreams. By knowing all that, by listening you will be able to talk to your child about those things and many other, that will give you the right tools to fight against many teenager behavior problems and other teen issues that might occur.

It is the parent's responsibility to raise a child, the first step to dealing with your teenager is talking to him. So for those who forgot how it's time to start learning the forgotten art of communication.
(http://www.at-risk.org/blog/601/communicating-with-your-teen-child-a-long-forgotten-art/)
Adolescent Health Sourcebook
Call Number: R 613.0433 ADO
ISBN: 9780780809437
Publication Date: 2007
"Provides basic consumer health information about physical, mental, and emotional health issues specific to adolescents. Includes index, glossary of related terms, and other resources""--Provided by publisher.
Unbelievably Good Deals that You Absolutely Can't Get Unless You're a Parent
ISBN: 9780809225842
Publication Date: 1999
This comprehensive sourcebook lists loads of great offers for everything fromtravel and recreation to clothes, food, and educational opportunities--all atlittle or no cost
-HMCPL
The Hurried Child, Growing Up Too Fast Too Soon
ISBN: 9780738204413
Publication Date: 2001
Ever worried on making your baby grow up too much? Well here is a book to help from just that.
Parenting Teenagers

Christina Botto, a mediator between parents and their teens for more than 20 years has developed this website for other parents that are reaching out for help. This website has great insight into topics, articles and how to help deal with all kinds of teenagers.

A Parents Guide To Surviving The Teen Years

This is a really good resource for parents; it has everything on dating, health, mental health, and so much more!!

By Parents For Parents

The goal of By Parents-For Parents is to share information on parenting teens. Parents struggling with teens whose problem behavior is out of control can touch base with those who have weathered the storms of adolescence. Articles both by parents of teens in the midst of this struggle and those who have successfully guided their adolescent children through these formative years are intended to both inform and transform. Self-tests allow you to measure in an objective fashion the effectiveness of
"KidsHealth is the #1 most-visited website for children's health and development"
-KidsHealth.org